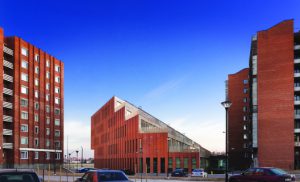 As part of the international collaboration between Tartu Health Care College (THCC) and the Center for Ukrainian and European Scientific Cooperation, we invite everyone to join INTERNATIONAL WEEK: 18.-22.11.2019.
artu Health Care College (THCC) is pleased to announce the 5th International Week for colleagues from our partner institutions! International week "Challenges in Life Long Learning" takes place between 18.-22.11.2019. During the week Tartu Health Care College is going to held on Thursday, 21.11.2019 second Student Coference "Health in Our Hands". The aim of the conference is to promote interactions among undergraduate and graduate healthcare students and lecturers from different fields, countries, and exchange of research knowledge and experience.
In addition you can participate in several workshops, meet colleagues and get in touch with new cooperation partners, make acquaintance with the Tartu University Hospital and beautiful student town Tartu.
The staff week is organized by Tartu Health Care College and is mainly directed to following units: academic staff, international relations, Erasmus student's integration structures, Applied Research Board. The staff week will give you overview about challenges in life long learning and cooperation in Tartu Health Care College.
Participation fee for the week is 45€, students attenging with their lecturers – free of charge. Participants are expected to cover their own travel, accommodation and other expenses through the Erasmus staff exchange programme or otherwise. The language of communication will be English.The deadline for applying is 1st November 2019.
The purpose of the international week is to exchange experiences on the field of challenges in life long learning, international relations, share best practices. Since it would be essential to learn from the different ways challenges in life long learning are organized in different institutions, the participants are requested to make a brief presentation on their home institution. We invite you to present examples, ideas and concepts of your universities/colleges which will be analyzed and discussed in workshops.
You can get overview about research in THCC here. You should also see the shortmovie about THCC.
CONTACT
Danel Jantra
International Relations Specialist
+372 737 0208
daneljantra@nooruse.ee
Fill application form at the official website of THCC