To heighten the interest of the internship's participants in the active and exciting scientific activity as well as to contribute to the establishment of strong academic networks between education institutions and research establishments, Cuiavian University in Włocławek has carried online lectures concerning different topics on August 26 – September 9, 2020 under the assistance of the Center for Ukrainian and European Scientific Cooperation. On September 9, 2020, the final ZOOM lecture "The role of life-long learning in innovative economics" has been conducted.
Mgr Joanna Skiba, Head of Foreign Language Department, Head of International Office at Cuiavian University in Włocławek (Poland), Expert in adult education and e-learning, has been a lead speaker.
It has been considered and analyzed a nature of adult education, its influence on active society and achieved results in the economic realm, which is developing around the globe, and drawn a line under the marathon of online lectures.
For our part, we want to thank all participants for your interest in the activities of the Center for Ukrainian and European Scientific Cooperation and your endeavors!
We are glad to receive your comments, which we would like to share with others: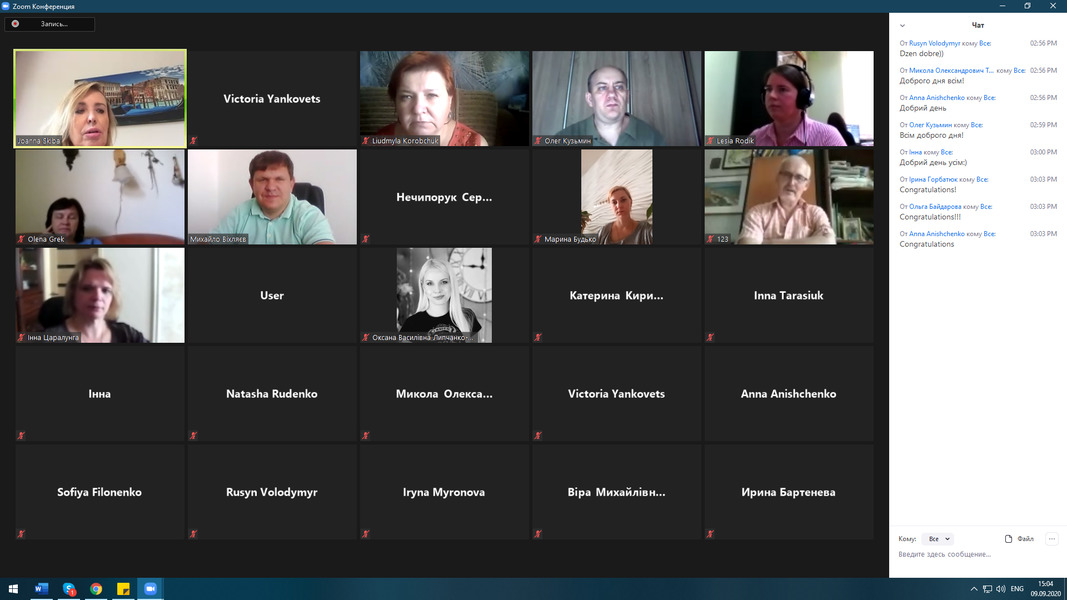 Олег Кузьмін: Велике Вам дякуємо за високий рівень проведених заходів. З повагою, викладачі та науковці Національного університету харчових технологій (м. Київ).
Майя Верголяс: Величезне спасибі всьому вашому колективу! Дуже корисні і цікаві лекції. Бажаю успіхів у подальших ваших роботах, а також здоров'я!
Rusyn Volodymyr: Thanks for interesting information and scientific and pedagogical internship! Assistant Professor at Department of Radio Engineering and Information Security at Yuriy Fedkovych Chernivtsi National University, double winner of Erasmus+ (Czech Republic, Germany).
Alla Kulichenko: It was an inspiring and exciting lecture. Thanks a lot. Hope for future collaboration. Wishing you all the best and a very happy work anniversary.
Natasha Rudenko: Дякую!
Віра Гелей: Дякуємо!!
Tatyana Dvirna: Thanks!
Олександра Єременко: Thanks for the training! Best regards and stay safe!
Olena Grek: Дякую
Ольга Байдарова: Thank you!
Halyna Vasilova: Thanks! Have a good day!
Inna Tarasiuk: Thank You for the training!
The lecture is available at: https://youtu.be/1p7dmAcjcgg
We express gratitude to all participants!