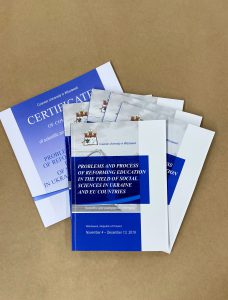 With the assistance of the Center for Ukrainian and European of Scientific Cooperation, on December 2 – 13, 2019, Cuiavian University in Włocławek (Włocławek, the Republic of Poland) conducted the scientific and pedagogical internship "Problems and process of reforming education in the area of social sciences in Ukraine and EU countries".
Experts in different spheres of social sciences were among the participants:
Tykhonenko Iryna Viktorivna – PhD in Political Science, Senior Instructor at the Department of International Relations and External Policy, Petro Mohyla Black Sea National University;
Ubeivolk Oksana Oleksandrivna – PhD in Philosophy, Senior Lecturer at the Department of Business Communication, Zaporizhzhia National University;
Freidlina Viktoriia Vitaliivna – Postgraduate Student at the Department of All Humanities Disciplines, International Humanitarian University;
Cherniak Daryna Serhiivna – PhD in Sociology, Associate Professor, Senior Lecturer at the Department of Philosophy, Political Science and Ukrainian Studies, Kyiv National University of Technologies and Design;
Chuprii Leonid Vasylovych – Doctor of Political Science, Associate Professor, Professor at the Department of Sociology and Political Science of the Faculty of Linguistics and Social Communications, National Aviation University.
All participants of the internship were provided with a collection of abstracts and a certificate on the completion of the scientific and pedagogical internship (in two languages) in the EU academic institution.