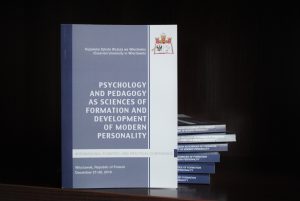 Cuiavian University in Włocławek was an organizer of the international scientific and practical conference "Psychology and pedagogy as sciences of formation and development of modern personality", which took place on December 27-28, 2019.
On the completion, it was granted the collections and certificates on the participation in the international conference.
More than 110 persons took an interest in the participation in the scientific event: scientists, academic staff, postgraduate students, students of the leading higher education institutions and research establishments, as well as practicing psychologists.
Conference participants represented the following HEIs and establishments:
State Higher Educational Establishment "Pereiaslav-Khmelnytskyi Hryhoriy Skovoroda State Pedagogical University"
Taras Shevchenko National University of Kyiv
State Institution "South Ukrainian National Pedagogical University named after K. D. Ushynsky"
I. Vernadsky Taurida National University
Sumy State Pedagogical University named after A.S. Makarenko
National Pedagogical Dragomanov University
Pavlo Tychyna Uman State Pedagogical University
Bogdan Khmelnitsky Melitopol State Pedagogical University
H. Shevchenko National University "Chernihiv Colehium"
Zhytomyr Ivan Franko State University
Kharkiv State Academy of Culture
The National Academy of the National Guard of Ukraine
Cherkasy Medical Academy
Kherson State Maritime Academy
Kryvyi Rih State Pedagogical University
Odessa National Maritime University
Mukachevo State University
I. Vernadsky Taurida National University
O. Sukhomlynskyi Mykolaiv National University
Vasyl' Stus Donetsk National University
Lutsk Pedagogical College
Kryvyi Rih Medical College
Municipal Establishment "Kharkiv Humanitarian Pedagogical Academy" of Kharkiv Regional Council
Institute of Behavioral Studies of O.P. Jingal Global University
Novotroitskaya secondary school of І-ІІІ degrees № 1
Secondary school of І-ІІІ degrees № 93 of Kryvyi Rih City Council