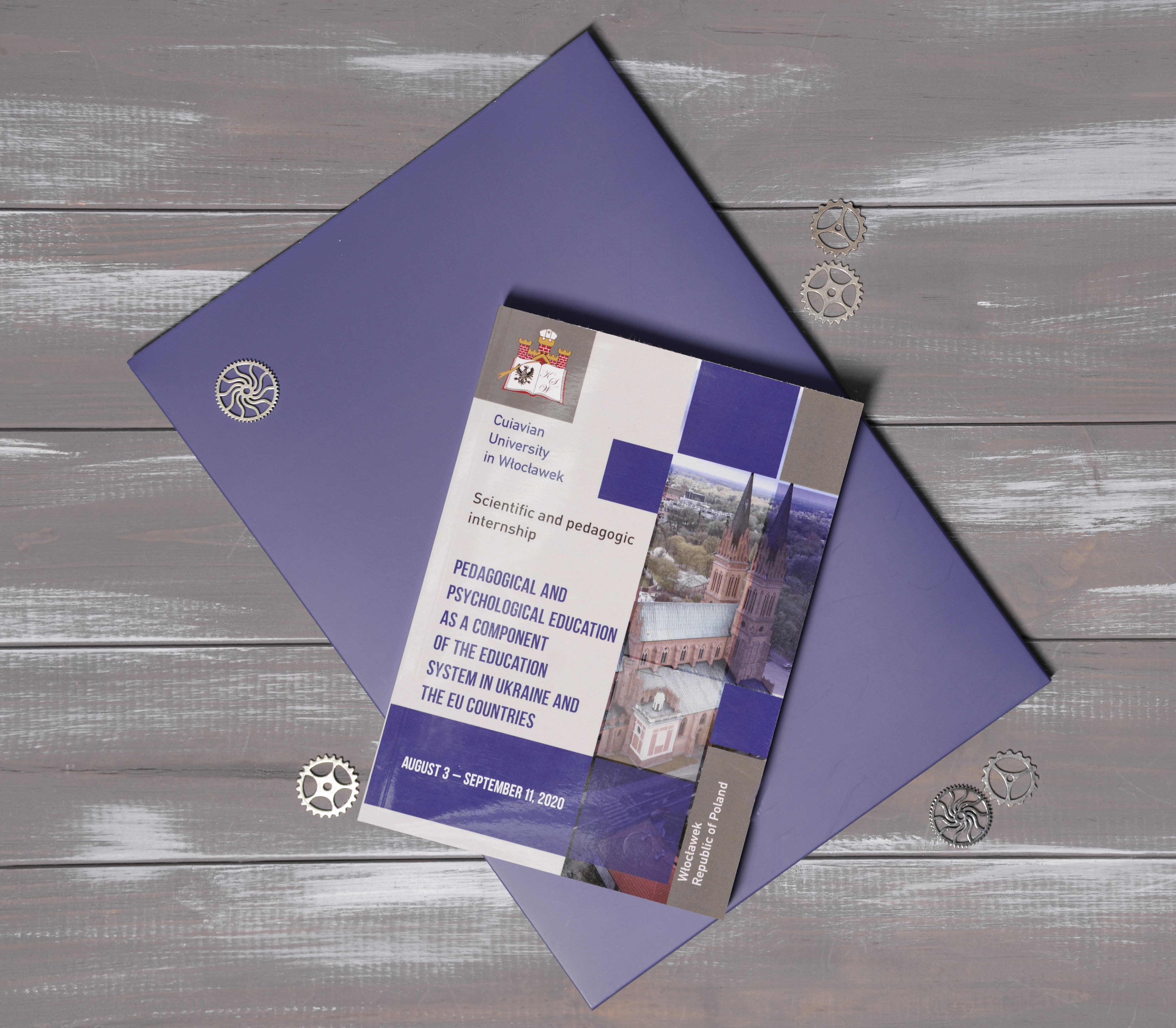 Researches on pedagogy and psychology have become relevant and reasonable due to the existence of many concepts, approaches, doctrines which should be refined and generalized.
Thus, under the assistance of the Center for Ukrainian and European Scientific Cooperation, on August 3 – September 11, a scientific and pedagogical internship "Pedagogical and psychological education as a component of the education system in Ukraine and the EU countries" took place in Cuiavian University in Włocławek (the Republic of Poland).
Three online lectures in English were run via ZOOM under the internship's framework. The lectures covered the following topics: "Social media and their role in didactics under COVID-19", "Aspects of academic writing in Poland", "The role of life-long learning in innovative economics".
As the information letter marked, a collection of abstracts and a certificate of completion of the scientific and pedagogical internship (in two languages) in the area "Pedagogy and psychological sciences" were sent on September 11.
Internship program:
Forms of inclusion organization for a child with disabilities in the general education school (Poland's experience)
Cooperation organization of a research adviser with foreign postgraduate students in the learning process of institutions of higher pedagogical education
Application of innovative psychological and pedagogical technologies when training medical psychologists
Historical and modern experience in professional training of social teachers in Poland
The use of interactive technologies when forming communicative competence of students
Content of control and analytical activity of the head of a higher education institution
Communicative competence of a lecturer as a determinant of his readiness to professional activity
Creation of a safe educational environment in the institutions of higher pedagogical education.
A problem of improving pedagogical education. Experience of the latest education reform in the Republic of Poland.
Participation in a training workshop and work on scientific and methodological reports
Academic staff of higher education institutions, scientific associates of research establishments, postgraduates and doctoral candidates, students, who have or obtain pedagogical or psychological education, joined the internship. Some participants were eager to give feedback on the scientific and pedagogical internship:
Zaiarna Inna Serhiivna, PhD in Pedagogy, Lecturer at the Department of Foreign Languages, Institute of Law of Taras Shevchenko National University of Kyiv: Важливим фактором професійного розвитку будь-якого викладача є набуття нових компетентностей. Досвід наших західних колег особливо цінний!

Щиро дякую Центр українсько-європейського наукового співробітництва за можливість пройти науково-педагогічне стажування в Куявському університеті (м. Влоцлавек, Республіка Польща). Організація нашої роботи та комунікація між усіма учасниками були на найвищому рівні! My special gratitude is to Joanna Skiba for her great contribution to our professional development. The lectures she delivered to us were extremely interesting and relevant! The one I especially appreciate was on the aspects of academic writing in Poland!
Filonenko Sofiia Olehivna, Doctor of Philology, Professor, Professor at the Department of Ukrainian and Foreign Literature, Berdyansk State Pedagogical University: Шановні колеги! Отримала сертифікат і збірник з матеріалами стажування. Величезне спасибі за оперативність і цікаву програму стажування, змістовні лекції і якісний збірник.
Бажаю успіхів і процвітання вашій організації! Дякую за співпрацю.
We express our gratitude to all participants
who joined the scientific and pedagogical internship!