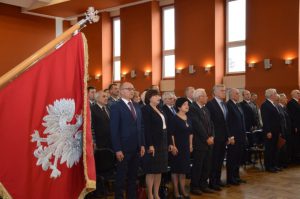 The Centre for Ukrainian and European Scientific Cooperation gradually establishes international cooperation with a new partner for us – Cuiavian University in Włocławek (Kujawska Szkoła Wyższa we Włocławku). Thus, on December 21–22, 2018, a number of international scientific and practical conferences took place in Włocławek, and their organizer was Cuiavian University in Włocławek. The Centre rendered all-round support and assistance towards preparatory and organisational issues.
Cuiavian University in Włocławek organised three individual scientific and practical conferences which were successfully implemented:
1) a conference on topical issues in the medical sphere where participants made efforts to study the current issues of medical education, which are inadequately treated in Ukraine and abroad, more detailed, to interpret and implement statutory and legislative acts that directly or indirectly relate to the medical sector, as well as other issues that need further discussing and studying according to the participants;
2) a conference for representatives of engineering sciences who were proposed to present own scientific ideas and best practices to the world;
3) a conference which focused on important issues of natural sciences. Participants stress that this science needs the greatest attention around the world at the present time.
Ukrainian scientists were invited to participate in scientific events in the distant form. For this purpose, everyone interested might send their research papers in electronic form. The Center for Ukrainian and European Scientific Cooperation acted as the official representative of the organising committee of the conference in Ukraine for a convenient communication of Ukrainian scholars with the representatives of Polish university that guaranteed a qualitative process of participation of the domestic scholars in the international scientific events.
Presently, all participants from Ukraine will receive collections of abstracts and certificates of participation authenticated with the seal of Polish university. Participants will be able to present a collection of abstracts and a certificate as confirmation of participation in the international conference held in EU country.
The Center for Ukrainian and European Scientific Cooperation continues a fruitful cooperation with Cuiavian University in Włocławek. Now, due to joint efforts, a scientific and pedagogical internship is elaborating. Academic staffs of higher education institutes, research scientist of institutions, doctoral students, postgraduate students, applicants, and students who have or obtain engineering education are invited to participate in the scientific and pedagogical internship. More detailed information on the scientific event you can find following the link: https://cuesc.org.ua/anonsi/kujawska-szkola-wyzsza-we-wloclawku-kuyavskij-universitet-u-vlotslaveku-provodit-naukovo-pedagogichne-stazhuvannya-na-temu-tehnichna-osvita-yak-skladova-sistemi-osviti-ukrayini-ta-krayin-yes/.