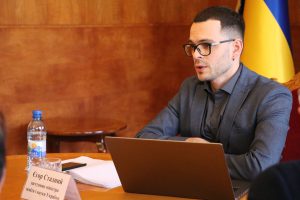 On February 24, Director of the Center for Ukrainian and European Scientific Cooperation Dmytro Bielov took part in the meeting of Yehor Stadnyi, Deputy Minister of Education and Science of Ukraine, with higher education teachers of Transcarpathia region. During the meeting, it was discussed a range of issues concerning the reforming of the higher education system of Ukraine. Deputy Minister made a point of financing of higher education institutions in Ukraine. In particular, Yehor Stadnyi stated: "The previous finance system was based exclusively on the number of tuition-free students. Thus, one of the reasons for the shift to a new finance system is a massive reduction of state-funded positions. Now, they are cut twice compared to 2005. In 2020, we have changed an approach to the funds' distribution between the universities. And the number of tuition-free students is one of the criteria which are taken into account. In the following years, the significance of this criterion will be decreased.
Yehor Stadnyi also specified the way of assessment of other criteria that would form an extent of state financing of the universities. That sort of criteria is as follows: international ratings, alumnus employment, university position and students contingent.
After the opening speech, the attendees could pose the questions to the Deputy Minister of Education and Science of Ukraine. In particular, it was discussed tuition fees, the expediency of External Independent Evaluation (ZNO), publications in the scientific journals of Scopus and Web of Science, a balance between the number of lecturers and students etc.
Following the meeting results, Yehor Stadnyi marked: "The purpose of our visit is not "to come and to be liked" but to inform you in details about all our steps that you have the best comprehension of the focus area and consequently, our expectations from this process should coincide. It is possible that not all our decisions meet with resounding support, but primarily we are looking towards avoiding ambiguity and innuendoes".