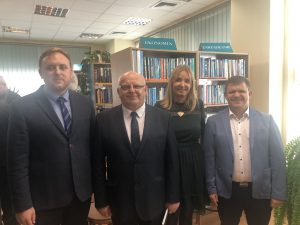 On October 19, 2019, the 25th festive inauguration of the 2019/2020 academic year in Cuiavian University in Włocławek (Włocławek, Poland) was held in the auditorium of Collegium Minus Kujawskiej Szkoły Wyższej im. prof. Tadeusza Reichsteina. This is a remarkable event in university history. Mykhailo Vikhliaiev and Oleh Holovko members of the Executive Board of the Center for Ukrainian and European Scientific Cooperation, which is an international partner of the Polish university, visited the event on the invitation of Joanna Skiba, Head of the International Department of Cooperation with Domestic and Foreign Universities, and had an opportunity to congratulate the university administration personally.
Guests, students, alumni, academic staff and officials of Cuiavian University in Włocławek gathered at the celebration of the important event. The ceremony was started with the singing of the national anthem by the Cordiale Coro Choir (Aleksandrów Kujawski) under the direction of Dr. Jaroslav Dombrowski.
Rector, Prof. Dr. hab. Stanisław Kunikowski, who summarized the activities of the university over the last academic year and outlined the main focuses of its development for the coming years, gave a solemn speech to guests. Head of Włocławek Academic Community Zdzisław Zasada and His Excellency Bishop Wiesław Mering from the Diocese of Włocławek also expressed their congratulations. Senior university officials marked the development of international activity and a significant increase in the international scientific projects due to the work of the Center for Ukrainian and European Scientific Cooperation.
During the event, future students of Cuiavian University in Włocławek took the oath. After the enrollment and singing of Gaudeamus Igitur, Grzegorz Stasiecki, representative of the University Student Council, congratulated matriculated students. Then, university staff and students were awarded medals and merit certificates. In the course of the inauguration, it was announced top ten graduates of Cuiavian University in Włocławek in the 2018/2019 academic year. The concert of violin duet "Violin Queens" beatified the ceremony.