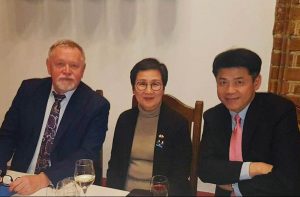 The International Asian Congress, a scientific part of which took place in Torun on May 16-17, was organized by the Asia-Pacific Society and the Faculty of Political Science and International Studies of the Nicolaus Copernicus University in Toruń in cooperation with the Kuiavian-Pomeranian Province Marshal's Office, the Municipal Council of Toruń, and the Business Support Centre in Toruń.
Every year the event attracts hundreds of scholars, researchers, experts and entrepreneurs interested in Asian issues and in Poland's relations with Asian countries at different levels of collaboration. It is a unique meeting attended by specialists in a number of fields, who are all involved in the cooperation between Europe and Asia. It is also an important international event – the participants of the Congress include guests from China, Russia, India, Uzbekistan, Kazakhstan, Malaysia, Azerbaijan, Japan, Pakistan, Vietnam, South Korea, Kyrgyzstan, and Georgia, as well as researchers from the United States, Germany, the Netherlands, France, Belarus, and Ukraine. For years, the Congress has also been a significant event in the diplomatic calendar – attracting the ambassadors of China, Russia, India, Malaysia, Uzbekistan, Kazakhstan, Thailand, Indonesia, Pakistan, Azerbaijan, Mongolia, the Philippines, and Japan, or their representatives.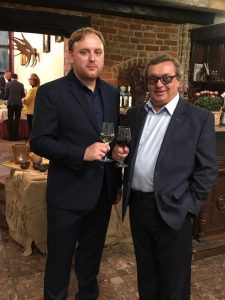 At the invitation of dr Adam Marszalek, President of the Asia and Pacific Society, founder of publishing group "Marszałek", Oleh Holovko, member of the Executive Board of the Center for Ukrainian and European Scientific Cooperation, also visited the international event as an honoured guest. Among honorary guests there also was Jarosław Gowin, Deputy Prime Minister of Poland, Minister of Science and Higher Education, Piotr Całbecki, Marshal of Kuyavian-Pomeranian Voivodeship, Prof. Marcin Czyżniewski, President of Toruń City Council, Prof. Andrzej Tretyn, Rector of Nicolaus Copernicus University, prof. Liu Zhi, Vice Editor-in-Chief of China Renmin University Press in Beijing, Michał Korolko, President of Torun Regional Development Agency, Prof. Tadeusz Wallas, President of the Political Science Committee of the Polish Academy of Sciences and others. More than 500 participants joined the event.
On May 16, the event began with the opening of the 6th International Asian Congress and congratulatory address of Adam Marszalek, President of the Asia and Pacific Society, speeches by honorary guests and diplomats. Further, the Congress program included cultural and congress centers, lectures, seminars, reviews of Asian films, etc. The final part of the event was a gala banquet at the restaurant "Nikolaus".
The International Asian Congress is considered to be the most important scientific, cultural and business event dedicated to Asia in Central Europe. For twelve years, it has been uniting researchers, experts, politicians, diplomats and entrepreneurs. More than 500 participants from 20 countries, including prominent Polish scholars in Asian research, discuss the issues concerning politics, economics, investment, innovation, international cooperation and culture in 50 sessions.