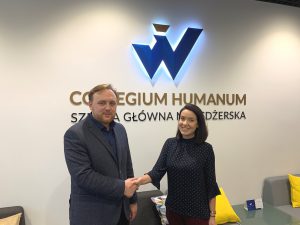 Oleg Golovko, Member of the Executive Board of Helvetica Publishing Group, had a working visit in the leading university of Warsaw – Collegium Humanum. The meeting took place with Oleksandra Novosad, Vice Rector for Postgraduate Education.
Collegium Humanum Szkoła Główna Menedżerska is the international project which fundamentally differs from the education intuitions of Poland by a unique educational programme that has been created according to the needs of creative and talented youth. Creativity and innovations are the principal characteristics of Collegium Humanum.
An important outcome of the meeting for both parties is the exchange of editorial members for the journals, which are under the administration of Helvetica Publishing Group. The parties also agreed on the publishing of mutual collective monograph on different sciences.