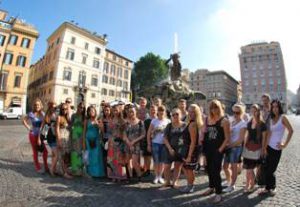 The Center for Ukrainian and European Scientific Cooperation through joint efforts with Faculty of Law of Zaporizhzhia National University organized European tour as part of realization of student educational visits to European countries. On June, 4-16, 2012, twenty six students of Faculty of
Law of 2-4 years visited Italy, Switzerland, and the Czech Republic.
A trip to the cities of Venice, Bologna, Florence, Rome, Pisa, Turin, Geneva, and Prague was extremely interesting. During the trip, young lawyers familiarized themselves with the work of international institutes and foreign higher education institutions. The students visited the UNESCO Office in Venice, the United Nations Office at Geneva, and the ancient Bologna University (Bologna). In the Czech capital, participants of the tour met with representatives of the Ukrainian National and Cultural Center.
Thanks to the trip, ZNU students received new knowledge and unforgettable impressions. They had the opportunity to compare the legal systems of different states and the level of legal culture of the population of different European countries.