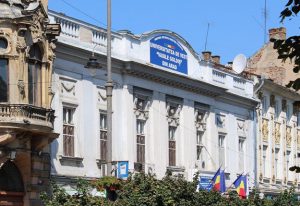 On December 27 – 28, 2019, the international scientific and practical conference "Systematization of Ukrainian and European legislation in the modern realities" was conducted at the Faculty of Law of "Vasile Goldiș" Western University of Arad (Romania).
About 100 scholars, postgraduate students and students of the leading higher education institutions and research establishments, as well as legal practitioners and judges who are actively in legal research activities, joined the conference activities.
The participants from Lviv State University of Internal Affairs, Legislation Institute of the Verkhovna Rada of Ukraine, Ivano-Frankivsk Law Institute of the National University "Odesa Law Academy", Sumy National Agrarian University, Bohdan Khmelnytsky National University of Cherkasy, Lviv Polytechnic National University, Donetsk Law Institute of the MIA of Ukraine, Taras Shevchenko National University of Kyiv, Uzhhorod National University, "Zaporizhzhia Polytechnic" National university, Inter-regional Academy of Personnel Management, Lutsk National Technical University, Zaporizhzhia National University, V.N. Karazin Kharkiv National University, Khmelnytskyi Institute of Social Technologies and of other HEIS were provided with printed collections and certificates on the participation in the international scientific and practical conference.