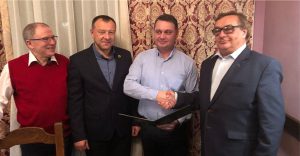 Oleh Holovko, Member of the Executive Board of the Center for Ukrainian and European Scientific Cooperation, Director of Helvetica Publishing House, together with Adam Marszałek, partner of the CUESC, President of "Marszałek Publishing Group", participated in the international scientific-practical conference "Academic support of the activities of the security and defense sector of Ukraine" which took place on 22 November in the National Academy of the State Border Guard Service of Ukraine.
For the first time, when the academy has become the partner of FRONTEX (European Border and Coast Guard Agency) this year, the conference has the status of the international one.
National Academy of the State Border Guard Service of Ukraine named after Bohdan Khmelnytskyi is the unique multidisciplinary education institution which has had pride of place among other higher education institutions of law-enforcement agencies of Ukraine long ago. Moreover, the academy constantly organizes scientific and practical conferences.
It has become a good tradition to conduct the annual conferences concerning a wide range of topical issues for scientists, audience members, cadets and students in the National Academy. More than 350 honoured scholars, among which there are representatives of the Republic of Poland, joined the international conference.
Rector of the National Academy Major General Oleh Shynkaruk opened the conference. During the speech, he marked: "the very scientific activities are decisive for the entire system of the professional training of officers of the State Border Guard of Ukraine and the further development of border agencies in general".
In the course of the conference, the participants discussed the status and prospects for the development of education and science in the higher education institutions in the defense and security sector, the search for ways for the improvement of common ground of law-enforcement agencies and military units of Ukraine during their mutual actions towards the national security protection of Ukraine.
The constructive atmosphere of scientific discussions pervaded the event. The meeting was conducted at the high scientific and methodological level.