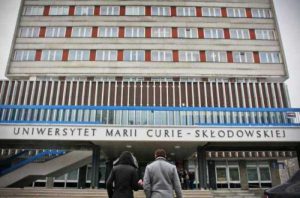 Maria Curie-Skłodowska University with the support of the Center for Ukrainian and European Scientific Cooperation prepared for publication a joint monograph, entitled "Development and modernization of philological sciences: Poland's experience and perspectives of Ukraine". The publication came out in October 2017.
Maria Curie-Skłodowska University is one of the largest, most famous and most prestigious Polish state universities; it was founded on October 23, 1944. At present, more than 20 thousand students study at the university on three educational levels: undergraduate, graduate, postgraduate. Each year, the university is ranked among the ten, most prestigious educational institutions in Poland. HEI has 11 faculties, which include 39 directions and more than 120 specialities.
The publication was a result of the activity of a team of authors, connected by a shared idea to present the results of their investigations. The writing of the joint monograph was performed by scientists, lecturers and post-graduate students. The postgraduate research works were co-authored with the scientific supervisors. The monograph contains materials in Ukrainian, Russian, Polish and English.
The joint monograph "Development and modernization of philological sciences: Poland's experience and perspectives of Ukraine" contains the results of research of 24 authors. Scientists prepared profound articles, which investigate the issues of modernization of philological science, comprehensively. The editorial board of the joint monograph highlighted the scientific contribution of each of the authors. Particular attention deserves the investigations of such scholars as Hariunova Yu. O., Candidate of Philological Sciences, who presented the article "Language means of attitudinal meaning expressing in Ukrainian-language film criticism discourse". The author of the article appealed to the study of the corpus of film-critic Ukrainian-language texts. It also stands to mention the results of the research of Samokhina V.O., Doctor of Philological Sciences, Professor and Tarasova S.O., Postgraduate Student presented in the article "Ecolinguistic comic of hospital clowning". It is devoted to the study of the new direction, which studies the role of language, in solving the problems of the surrounding of communicative environment. Scholars have explored the genre of hospital clowning in the contemporary English-language medical discourse, which is considered from the point of view of ecolinguistics.
Each author received 3 copies of the publication and the certificate of participation. The monograph was published by the European publishing house "Izdevnieciba" Baltija Publishing "(Riga, Latvia) with the award of UDC and the ISBN number to it, which allowed the authors to take part in the joint scientific work, published in the European Union country.