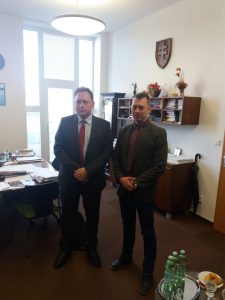 The Center for Ukrainian and European Scientific Cooperation is oriented to the improvement of higher education and science in Ukraine. The visit to the University of Prešov (Prešovská univerzita v Prešove) was one of the steps to the goal's achievement. Representatives of the Center for Ukrainian and European Scientific Cooperation attended the higher institution of Slovakia at the invitation of Rector Peter Kónya, Dr.h.c. prof. PhDr.
Presenting the university, Prof. Peter Kónya noted that the University of Prešov is the third largest university in the Slovak of Republic. Moreover, in 2016 the university headed the list in the rating of SCImago Institutions among Slovak universities due to researches and projects development. The University of Prešov conducts an intense research activity; there is infrastructure for research headed by three centers of excellence, the Center of Competences and Prešov part of the Technicom, University Science Park. In addition, the main attention is paid to applied research in information and communication technologies, electrical engineering, automation and control systems engineering, civil and environmental engineering.
As a result of the meeting, the parties agreed upon conducting joint scientific events for academic staff for Slovakia and Ukraine.