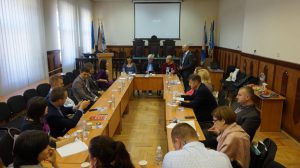 The international roundtable "Topical legal problems of Ukraine and Germany" took place on October 1, 2019, with the participation of the Center for Ukrainian-European Scientific Cooperation.

Academic staff, practicing lawyers as well as judges of local courts had an opportunity to communicate with colleagues from German and to compare the operating of the judicial system of both countries. Actually, it was a focus of the roundtable, which Dr. Cornelia Wölk, judge of Hamburg District Court, started with a report. She said: "I am very pleased to have the opportunity to address to you today. We've discussed the topic to draw attention to, and I've decided to talk about commercial cases in Ukraine and Germany. In our country, that sort of cases are considered by the courts of general jurisdiction and specialized chambers of other courts, while in Ukraine there is a system of commercial courts. This is an interesting distinctive feature, so I want to focus on comparative law".
The colleagues of Mrs Cornelia Wölk were also present at the roundtable: Dr. Magdalena Pajor-Bytomsky, Professor at Hamburg University, who studies European economic law, and Thomas Wer, former Head of Bankruptcy Court of Hamburg.
At the roundtable, it was stated that the experience of Germany was chosen as its legal system is model and integrated into many European countries. The Scandinavian countries, Poland, and even the Russian Empire have lived or live under German law. For example, social rights nowadays are Bismarck reform. We, the Ukrainians, are now facing the issue of pension reform, and in this matter, we rely on the German experience and, for this very reason, it plays a very important role. To listen to lectures in the original from the Germans is much better than learning from translations. Particularly, the lecturers can immediately compare their own system with our legislation.
During the meeting, it was agreed on the immediate signing of a cooperation agreement with the University of Hamburg and the introduction of certified programs for Ukrainian lecturers and students. It was noted that last year students from Ukraine were able to go to Germany for an internship at the Social Court of the City of Hamburg, and it was hoped that this year they would be able to further expand such cooperation and conduct a similar practice at the Hamburg Land Court. It is noted that last year students from Ukraine were able to go to Germany for an introductory practical training at the Social Court of Hamburg, and it is expressed hope that this year they will be able to expand such cooperation and conduct a similar practice at State Court of Hamburg.
The German delegation was interested in the possibility of German legal scholars to participate in the preparation and publication of the international scientific journal "Visegrad Journal on Human Rights". It is marked that there is no that kind of project in Europe, thus such experience deserves special attention in German law schools.