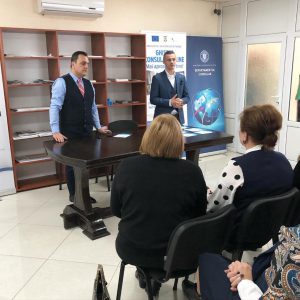 In terms of the international project initiated by the Ministry of Foreign Affairs of Romania with the assistance of the Center for Ukrainian and European Scientific Cooperation, on October 1 – November 30, Romanian language teachers upgraded their skills. 32 teachers joined the internship.
Teachers of general education schools of Ukraine were given lectures by Romanian philology teachers from the educational institutions of Romania. Attention was drawn to the grammar of modern Romanian, special aspects of orthography etc.
As a result of the event, all participants got the certificates on advanced training, which were granted directly by Romanian Consul in Ukraine (Gratian Florin Parvu) (urban settlement Solotvyne).