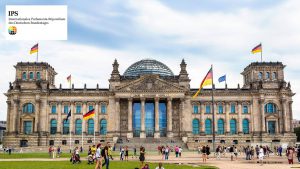 The German Bundestag annually provides young college graduates from the United States, Canada, France, Israel, Central, Eastern and South Eastern Europe and Arab region, who are interested in politics, with International Parliamentary Scholarship. The IPS is open to well-qualified and highly motivated young people who are open to play an active and responsible role in shaping the democratic future of their country. The German Bundestag gives young people the opportunity to gain first-hand experience of Germany's system of parliamentary government and processes of political decisions making in German. The scheme involves a three month placement with a Member of the German Bundestag. The Program also aims to develop and strengthen relations between Germany and participating countries. Consequently, the Bundestag expects that participants will implement and apply knowledge gained during program course in a native country.
Program duration: March 1–July, 31, 2020.
The main part of the Program consists of three-month cooperation with a Member of the German Bundestag. During this period, scholarship participants are actively involved in the activities of a Member office. In addition, the participants accompany their Members to meetings of the committees, parliamentary groups and other bodies and gain an insight into Parliament's internal functioning, systems and procedures. Participants regularly visit information programs and seminars organized by the Bundestag and political funds. In addition, participants are enrolled as students at the Humboldt-Universität zu Berlin for the summer semester. They are able to attend lectures and seminars in the Freie Universität and the Technische Universität.
Scholarship
The scholarship includes a monthly payment of 500 euros, free accommodation, and health, accident and liability insurance. In the case of independent accommodation, the subvention of 300 EUR is guaranteed in private capacity. It also covers the cost of travel to and from Berlin.
The selection of participants is implemented in two stages. The preliminary selection is carried out by the Embassy of Germany in Ukraine. The most qualified candidates are invited for a private interview which will take place in autumn/winter 2019 in the Embassy in Kyiv. The German Bundestag Selection Board makes a final decision on the program participants guided by the level of language proficiency, their professional qualifications and the competence of candidates in the social and intercultural sphere.
Requirements for Ukrainian applicants:
Ukrainian citizenship;
• university degree (Bachelor's, Master's, Specialist's degree or degree ) in any specialty;
• fluency in the German language (at least B2 in accordance with the Common European Framework of Reference for Languages;
• strong interest in political and social processes, as well as the history of Germany;
• public-political activity;
• age limits: birth date after 1.03.1990.
Deadline: before July 31, 2019 (inclusively)
You can find the list of required documents and more detailed information at the link.