The All-Ukrainian scientific and pedagogical advanced training in art history, musicology, music pedagogy

"Music in the system of art education: relations and counteractions"

, which took place from March 15 to April 23, 2021, is over.
It was organized by:
Odessa National A.V. Nezhdanova Academy of Music
NGO «Community «Musicology of Ukraine in the World Culture»
Center for Ukrainian and European Scientific Cooperation
The Organizing Committee consisted of the following musicology experts:
Oliinyk Oleksandr Leonidovych, PhD in Arts, Professor, People's Artist of Ukraine, Rector of Odessa National A.V. Nezhdanova Academy of Music;
Samoilenko Oleksandra Ivanivna, Doctor of Arts, Professor, Vice-Rector for Research of Odessa National A.V. Nezhdanova Academy of Music; Head of NGO «Community «Musicology of Ukraine in the World Culture»;
Ohanezova-Hryhorenko Olha Vadymivna, Doctor of Arts, Professor at the Department of Solo Singing, Odessa National A.V. Nezhdanova Academy of Music, Honored Artist of Ukraine;
Osadcha Svitlana Viktorivna, Doctor of Arts, Professor, Head of the Department of History of Music and Musical Ethnography of Odessa National A.V. Nezhdanova Academy of Music;
Chernoivanenko Alla Dmytrivna, PhD in Arts, Professor, Odessa National A.V. Nezhdanova Academy of Music;
Maidenberh-Todorova Kira Isaakivna, PhD in Arts, Associate Professor, Member of the National Union of Composers of Ukraine, Odessa National A.V. Nezhdanova Academy of Music; composer.
During the last three weeks, the participants of the advanced training attended the lectures of the top experts in musicology and music pedagogy, music performance. It was a productive time, and we received many positive feedbacks from the participants. We sincerely thank everyone who joined the event.
The project united many scholars, musicians, lecturers, and people of art.

More than 100 participants took part in the advanced training, as follows:

Aheiev Oleksandr Tymofiiovych, Altukhov Valerii Mykolaiovych, Arkhipova Natalia Yevheniivna, Bazan Olena Yuriivna, Bassa Oksana Mykhailivna, Belichenko Nataliia Mykolaivna, Bilyi Vitalii Ivanovych, Bodina-Diachok Viktoriia Volodymyrivna, Bondar Larysa Mykolaivna, Bondarenko Mariia Vasylivna, Vereshchahina-Biliavska Olena Yevhenivna, Voloshyn Mykola Volodymyrovych, Voronovska Olha Volodymyrivna, Havryliuk Svitlana Yevhenivna, Hnatiuk Larysa Anastasiivna, Hoshko Inesa Viktorivna, Hryhorieva Liudmyla Ivanivna, Hrynyshyn Myroslav Vasylovych, Hribinienko Yuliia Oleksandrivna, Danylchenko Yuliia Andriivna, Danyliuk Yana Vladyslavivna, Dubka Oleksandr Serhiiovych, Diachenko Yurii Stanislavovych, Ekman Myroslav Serhiiovych, Zhytkova Viktoriia Volodymyrivna, Zavhorodnia Halyna Fedorivna, Ivanova Iryna Leonidivna, Ihnatchenko Heorhii Ihorovych, Kaplun Tetiana Mykhailivna, Kashperska Viktoriia Viktorivna, Kyrylenko Yana Oleksiivna, Knyshova Tetiana Petrivna, Koval Svitlana Mykolaivna, Kondratieva Tetiana Ihorivna, Konovalova Iryna Yuriivna, Kostenko Nataliia Yevheniivna, Kostiuk Nataliia Oleksandrivna, Kravets Nina Viacheslavivna, Kravchenko Nazar Yuriiovych, Kuznetsova Olha Oleksandrivna, Kuliieva Antonina Yakivna, Kucherenko Stanislav Ihorevych, Lypetska Mariia Liubomyrivna, Lychkovakha Iryna Mykhailivna, Lihus Valentyn Oleksandrovych, Lisovyi Vadym Anatoliiovych, Loboda Larysa Mykolaivna, Malyi Dmytro Mykolaiovych, Maltseva Olena Volodymyrivna, Mandziuk Liubov Serhiivna, Mikulinska Olha Serhiivna, Mirzoian Kateryna Oleksandrivna, Moiseieva Hanna Heorhiivna, Moskvichova Yuliia Oleksandrivna, Muzhchyl Viktor Stepanovych, Mialkina Nadiia Oleksiivna, Ovsiannikova-Trel Oleksandra Andriivna, Ostroukhova Nataliia Volodymyrivna, Pastukhov Oleksandr Valeriiovych, Pilihromova Alla Leonidivna, Pinchuk Olena Hryhorivna, Poltavtseva Halyna Borysivna, Popov Yurii Kyrylovych, Prokhnitskyi Mykola Mykolaiovych, Ptushkin Volodymyr Mykhailovych, Radiievska Olena Vitaliivna, Ralo Hanna Oleksiivna, Ralo Oleksii Mykolaiovych, Rebrova Hanna Oleksandrivna, Repetska Viktoriia Hermanivna, Romenskyi Yurii Mykolaiovych, Rudenko Nina Ivanivna, Riabukha Nataliia Oleksandrivna, Sahalova Hanna Volodymyrivna, Sapsovych Oleksandra Arkadiivna, Sydorenko Olha Yuriivna, Sirenko Yevheniia Ihorivna, Skrebtsova Nataliia Heorhiivna, Spaska Tetiana Volodymyrivna, Stepanova Liudmyla Vasylivna, Strohal Tetiana Yuriivna, Sutulova Nataliia Oleksandrivna, Siuta Bohdan Omelianovych, Tavakkol Ekhsan, Temchenko Ivan Anatoliiovych, Teplova Olena Yuriivna, Tymofeieva Kira Valeriivna, Udovychenko Mykola Mykolaiovych, Fekete Olha Valentynivna, Fisher Tetiana Pavlivna, Khmelevska Inha Oleksiivna, Khodan Zoia Andriivna, Tsymbaliuk Oleksandr Viktorovych, Chaika Polina Yuriivna, Cherkashyna-Hubarenko Maryna Romanivna, Cherniavskyi Ihor Vitaliiovych, Chystiakova Natalia Viktorivna, Sharapa Tetiana Leonidivna, Shatova Iryna Oleksandrivna, Shkoruda Yuliia Mykhailivna, Shnurova Yuliia Anatoliivna, Shpak Halyna Serhiivna, Shcherbakov Yurii Viktorovych, Shcherbakova Olha Kostiantynivna, Yushkevych Serhii Yuriiovych, Yakymchuk Olena Mykolaivna, Yan Tsziun.
On April 22, the finishing online lecture and a roundtable, which has summed up all April meetings, have been held. Samoilenko Oleksandra Ivanivna, Doctor of Arts, Professor, Vice-Rector for Research of Odessa National A.V. Nezhdanova Academy of Music; Head of NGO «Community «Musicology of Ukraine in the World Culture», has been a speaker at both events.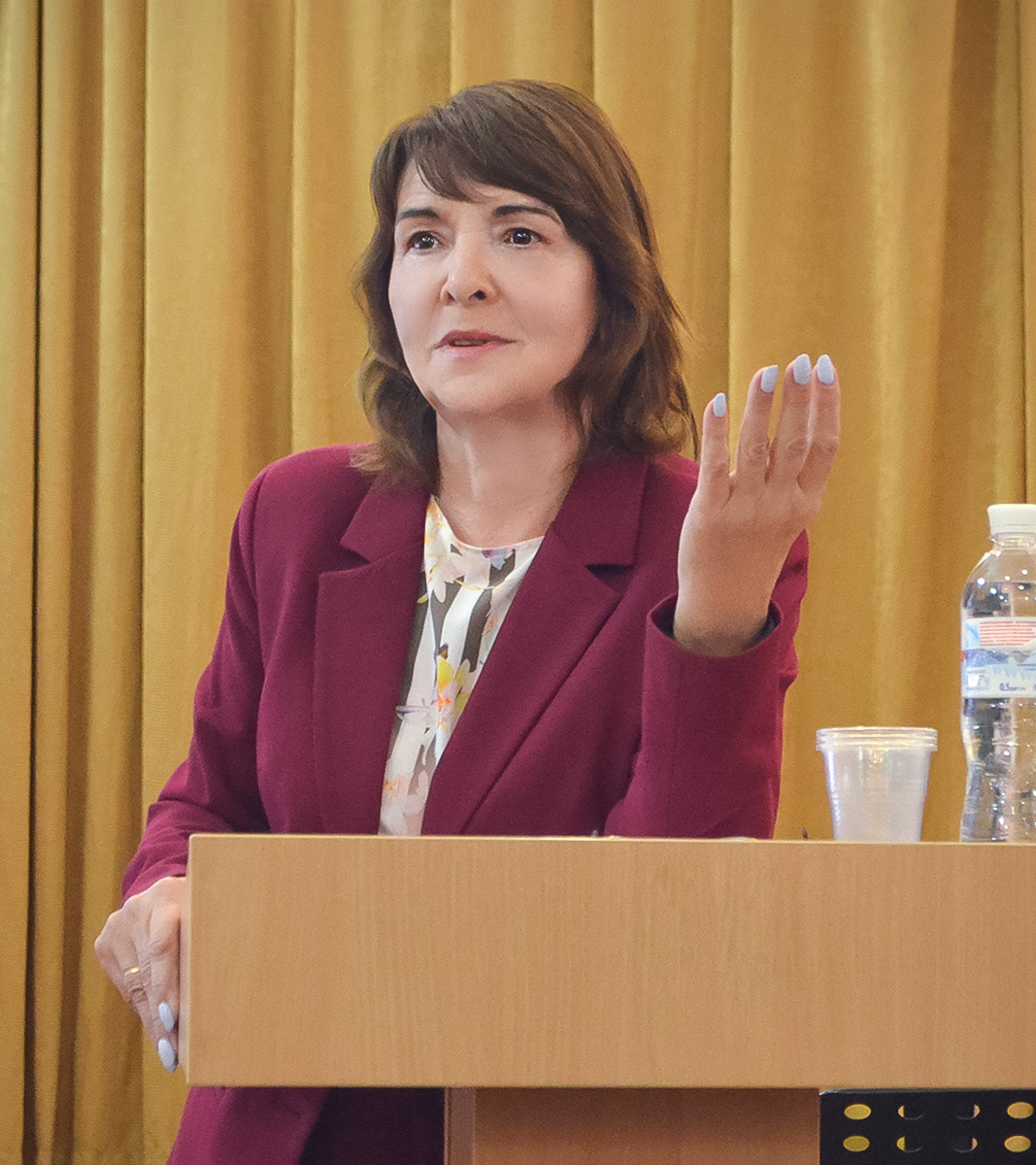 The research interests of the speaker are musicology, analytical study of the monographs on musicology, methodology, culture studies and psychology of music art. The interest in the psychological aspects of art is shown in her PhD thesis "Catharsis as an aesthetic problem". The doctoral dissertation "Dialogue as a musical-cultural phenomenon: methodological aspects of the modern musicology" respectively was devoted to methodology. Oleksandra Ivanivna is also an author of special study courses "Music culture studies", "Psychology of art", "Psychology of culture", "Musical interpretation" and "Music aesthetics".
The topic of today's online lecture is

"Music in the reality of a modern man: from life facts to psychological artifacts"

. The tasks of the online meeting are to clarify the role of music in real-world and artificial circumstances, which are triggered by the influence of psychological methods. It is common knowledge that music both relaxes and cheers up – it can be used as a placebo. All it depends on rhythm and our individual perception of a particular music piece.
Summing up the course, we can state with confidence that throughout 6 weeks, all participants gained sound knowledge that can be applied in teaching or scientific activity. Thus, at the first lecture, Zharkova Valeriia Borysivna told us why the music of Claude Debussy and Maurice Ravel is topical, covered its specifics; at the second online meeting, Severynova Maryna Yuriivna highlighted the importance of semantics in music art; at the third lecture, Voskoboinikova Yuliia Vasylivna paid attention to the features of distance music education; at the fourth lecture,

Olha Vadymivna Ohanezova-

Hryhorenko

delved into stage images in the art of signing; at the fifth lecture,

Osadcha Svitlana Viktorivna

told about the need to teach Orthodox signing in music education institutions. At the last lecture, Samoilenko Oleksandra Ivanivna defined the role of music in the life of modern man.
We are grateful to all who joined ZOOM lectures!